For many instruments, the dreaded metronome is something you absolutely MUST make friends with. Finding one that handles all your needs can be tricky, especially for free.
NCH TempoPerfect Metronome is available for Windows, iOS and Android
Here is their homepage and the download for Windows
Here is the iOs version from iTunes
and Here is the Android version from Google Play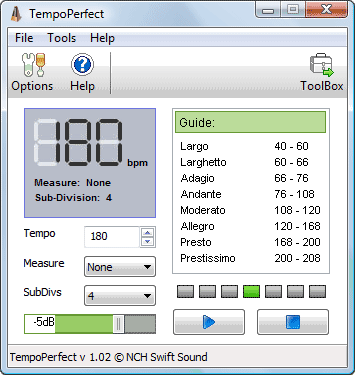 As you can see, it allows you to set tempo freely, but more importantly allows you to chose subdivisions, making hearing 8th notes and 16th notes or even triplets a breeze.
I strongly, and can't stress strongly enough, encourage my students to make frequent and intimate use of metronomes. Usually starting at a very slow speed and then going up two Beats Per Minute once they can play a part right twice in a row. If it starts getting ugly, go down 1 BPM at a time until it is comfortable again.
Learn it slow and perfect, and just go up slowly, 2 BPM at a time, and before you know it, you are FLYING. I like to say "you just put in the time, the metronome will do all the work". Speed is almost always easily reduced to spending time with the metronome, so have at it, this one is great! I'm still looking for a decent one for OSX